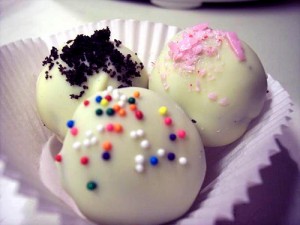 These are divine...so rich and yummy! Don't let the word "truffle" be intimidating. If you can use a food processor and fridge, you can make these.
Ingredients
1 pack oreo cookies
1 block cream cheese
1 block white almond bark or white chocolate
SPRINKLES (or other cute decorations)!!
Directions
1- soften cream cheese (either by setting it out for a while or putting it in microwave on low heat)
2- put oreos in food processor and chop until it is the consistency of bread crumbs
3- in large bowl, mix oreo crumbs and cream cheese until well mixed. You will have to mush it against the side of the bowl with a flexible spoon.
4- roll mixture into balls and chill for 20-30 minutes.
5- melt chocolate or almond bark. roll oreo balls in melted chocolate and place on wax paper. Sprinkle with sprinkles for decoration (before it dries)!!!
6- keep chilled until serving